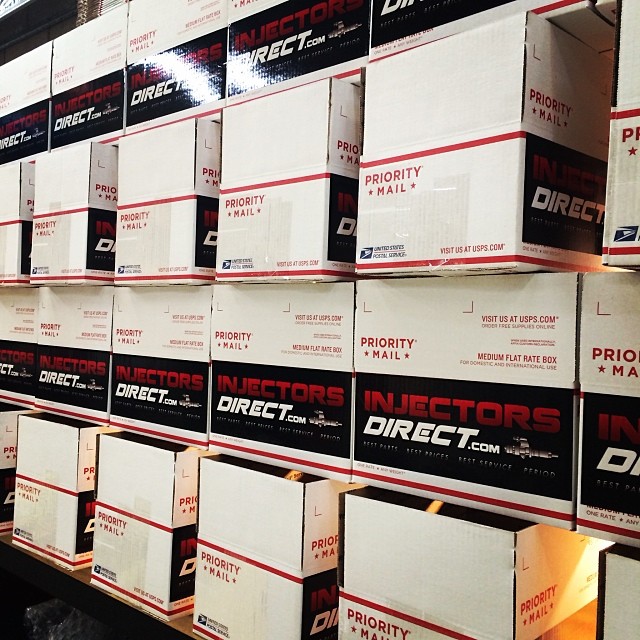 When we started Injectors Direct in 2009, our goal was to create a better way for diesel truck owners to get quality fuel injectors for their trucks at a reasonable price.
Five years later, our mission remains the same, and we're proud to offer injectors for Duramax, Cummins and Power Stroke diesel engines to our dedicated customers.
We also want to thank our customers, friends and followers for making Injectors Direct the go-to home on the web for diesel injectors. To give back and celebrate five great years, we'll be running promotions similar our #ShowUsYourTrucks Contest throughout the year, showcasing our customers' trucks and giving away plenty of gear along the way.
We're also reaching out to customers to get their feedback on the website, the products we offer, and learning ways we can better serve the diesel fans who make up the Injectors family.
One of the biggest requests we've received was to get our world-famous Injectors Direct apparel on the website for sale, which we did earlier this year. We now have everything from camo hats to beanies, to shirts and even beer koozies (cold brews not included!).
Another popular request was to bring on more products to keep your engine running smoothly and add more life to fuel systems.
To help Duramax owners get more out of their systems, we've also added Duramax Cat Fuel Filter Adapters to our lineup of Duramax products.
The Duramax Cat Fuel Filter Adapter replaces the old, inefficient 6-micron stock filter with a new, high efficiency 2-micron Cat filter (1R-0750). It fits all Duramax Engines 2001-present, and can be installed in 10 minutes.
The fuel filter adapter is the first in a long line of new products Injectors Direct will be adding to its lineup to help our customers get more out of their trucks.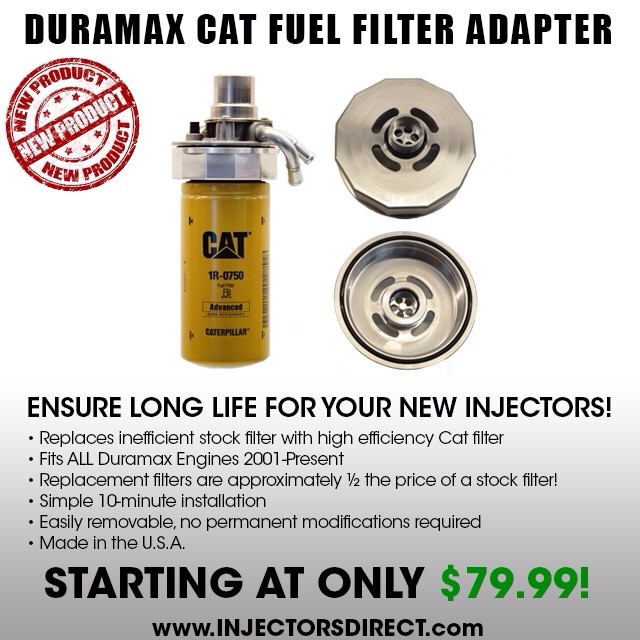 In the meantime, we wanted to say thanks for your support over the past five years, and we look forward to making 2014 our best year yet!
For more information about the fuel filter adapter, Injectors gear, or to pass along additional feedback on how we can improve Injectors Direct, contact us at 800.500.0980 or sales@injectorsdirect.com.
Also, be sure to follow us on Facebook, Twitter and Instagram to get the latest updates and to participate in our contests and giveaways throughout the year.
Thanks for riding with us!
– Andrew & The Injectors Direct Team