New information is starting to trickle in on the redesigned Duramax 6.6L L5P V-8 turbo-diesel for the 2017 GMC Sierra and Chevy Silverado HDs.
As we wrote on our blog this past summer, we've been watching the 2017 models closely, waiting to see just who will unveil the biggest and baddest diesel in 2017.
GMC/Chevy had kept details about the 2017 Duramax close to the chest, until recently when it was officially announced the next-gen engine more horsepower and torque than ever, with SAE-certified 445 horsepower (332 kW) and 910 lb.-ft. (1,234 Nm).
The new Duramax should allow for easier and more confident hauling and trailering, the companies point out, along with a 19% increase in max torque over the current Duramax 6.6L. Officials said the new model will also be quieter, by as much as 38% at idle when compared to the previous model.
How is there such a difference?
Well, General Motors points to an overhauled Duramax that only shares the bore and stroke dimensions of the current engine, bringing on a completely new GM-developed control system. The engine also brings on new cylinder block and heads, reciprocating assembly, EGR system and solenoid fuel system.
Even the damped steel oil pan is new, and will help contribute to a quieter ride.
"Nearly everything about the Duramax is new, designed to produce more torque at lower rpm and more confidence when trailering or hauling," Chief Engineer Gary Arvan said in a statement.  "You'll also notice the refinement improvements the moment you start the engine, and appreciate them as you cruise quietly down the highway — with or without a trailer."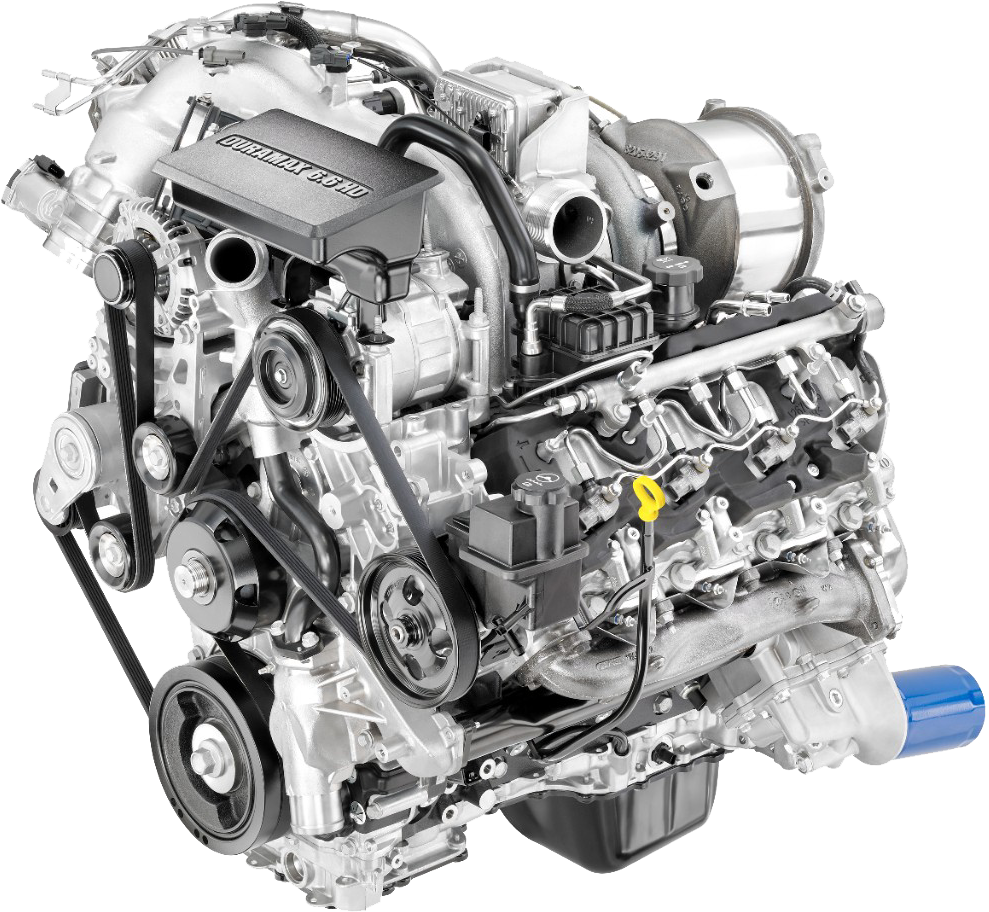 So what else is new?
Well, the patent-pending air intake system will add a bold new hood scoop to the Silverado and Sierra HDs.
The system will allow for cooler engine temperatures when towing or in harsh road conditions, helping it maintain speed and power in tough conditions.
What about the injectors?
Well, we are an injector shop, so we'd be remiss if we didn't mention its lightweight cylinder heads and solenoid injectors.
While the engine will be redesigned, it will still keep the standard Duramax aluminum cylinder head design – six head bolts/cylinder, and four valves/cylinder.
The common-rail direct injection fuel system, however, will have new high-capability, solenoid-type injectors.
GM reports they'll have a fuel pressure of 29,000 psi (2,000 bar), which should promote solid fuel atomization for a cleaner burn and reduced particulate emissions.
The new injectors are also said to "support up to seven fuel delivery events per combustion event, contributing to lower noise, greater efficiency and lower emissions. Technology advancements enable less-complex solenoid injectors to deliver comparable performance to piezo-type injectors."
Should be interesting to see how it all plays out with the overhauled Duramax 6.6L V-8 turbo-diesel.
We ran into our own issues with last year's model on one of our shop trucks, so we're looking forward to seeing just how different this new engine is, and, more importantly, how it stacks up against the other diesels in its class.
Over the next couple months, we'll be bringing you more details about the 2017 line of diesels.
In the meantime, share your thoughts with us on Facebook and let us know what engines you're looking forward to driving next year.
Photos courtesy General Motors.