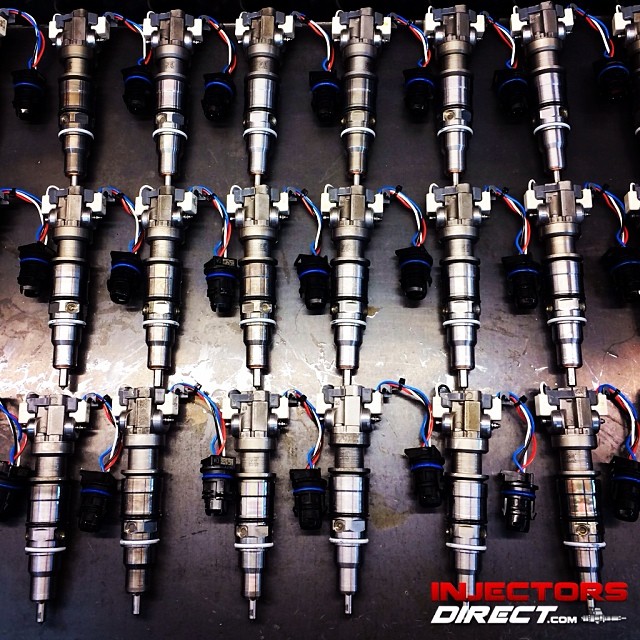 Here at Injectors Direct, we like to call it how it is.
If you've followed us over the years, you know we're not big fans of sugarcoating, or political correctness.
Why do you think we call ourselves Injectors DIRECT?
We've always given it to you straight, and that directness and honesty has helped make us the No. 1 source for diesel fuel injectors on the web.
Unfortunately, not every injector shop follows that same philosophy, putting "lipstick on a pig" as they say and selling lesser quality injectors as "remanufactured" or "OEM" when they wouldn't even qualify as "refurbished" by our standards.
Over the years, we've heard countless stories from customers & truck owners deceived by shops that cleaned up core injectors and sold them as "remanufactured" without a second thought. And you wonder why many cheaper injectors fail so quickly?
Deceptive labeling happens all the time in the auto parts industry, so this is nothing new to most of us. But that doesn't mean we should accept it, and settle for anything less than the best when it comes to our trucks.
So instead of pussyfooting around the subject, we decided to explain to you exactly what you should expect from the following injector types – which has always been the case here at Injectors Direct, even when the competition doesn't always follow our lead:
Refurbished
Refurbished injectors are typically cheaper for most applications because they've simply been removed from running engines, cleaned internally and externally, and then tested to ensure they meet the latest OEM specifications.
And while our test stands have proven to be the best in the business, we refuse to ship any injectors that haven't clearly met the OEM specs. These come with a 2-year unlimited mileage warranty.
Remanufactured
Remanufactured injectors are different from refurbished in that they've been completely disassembled, inspected for wear, then rebuilt using brand new components.  That isn't always the case with the competition, so make sure the shop you're buying from has a solid reputation and customer reviews before you go buying remanufactured injectors.
Once rebuilt, we rigorously test remanufactured injectors on our state-of the-art test stands to ensure they meet OEM specifications so that we know they're going to stand up to all of the pressure you put your trucks through day in and day out. These come with a 2-year unlimited mileage warranty.
OEM Remanufactured

OEM Remanufactured injectors have been disassembled and inspected for wear, then rebuilt using new and often updated components (nozzles, solenoids, plungers, valves, seals, etc.). And when we say rebuilt, we mean everything is new! (Except for the body) The injectors are then individually tested to ensure they meet OEM specifications.
To be clear, this process is carried out by the original equipment manufacturer (Bosch for GM, Mopar (Cummins) for Dodge, and Seimens/Motocraft/International for Ford). These are the same injectors you would get over the parts counter at your local factory authorized dealership, but we can get these same injectors at a discount because we order in such high volume. That's one more reason to go with Injectors Direct for your OEM injectors if refurbished or remanufactured aren't good enough for you. These come with a 2-year unlimited mileage warranty.
OEM New
Our OEM new injectors are just that. New. Every component of the injector is brand-spanking new, including the body. These are built by Bosch for GM and Dodge/Cummins applications.
Again, we get these at a discount because we purchase in such large numbers, and we pass that savings on to our customers. These come with a 3-year unlimited mileage warranty.
An Injector for Every Budget
So there you have it. At the end of the day, we provide quality injectors for any budget.
But one thing we don't have is patience for dealers who call their injectors something they aren't.
Next time you buy fuel injectors, make sure to do your homework. Check the reviews and ensure you're getting exactly what you're paying for so you don't have to go through this process all over again a few months down the road.